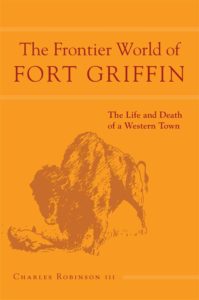 The Frontier World of Fort Griffin, Charles Robinson Ill, University of Oklahoma Press, 800-627-7377, $14.95, Paper. 236 Pages, Illustrations, Notes, Bibliography, Index.
This fast-paced, fun to read book tells of the exciting, albeit short, life of the rip-roaring Texas town called Fort Griffin.  Wild and dangerous, it sprouted from the desolate prairie to fulfill the needs of pioneers battling Indians, thus an army post was established.  Next came buffalo hunters with hides to sell, then cowboys on cattle drives. Nicknamed "The Flat", Fort Griffin was also known as "Hide Town".  The biggest settlement between Fort Worth and El Paso back in the 1870's, it eventually dwindled into little more than a few stone foundations found today.
When the buffalo hunting days ended, and the great Indian raids ceased, the army moved out.  The only real business for the town ended too when the great cattle drives no longer came through the area.  Cattle were shipped by train, and into the late 1880s the land around Fort Griffin was slowly turned into small farms crossed by barbed wire fences.
Today, Fort Griffin does not exist as a town at all. But Western historians frequently come across stories about it as one of the wildest towns in the Old West.  The author has delved through newspapers, court documents, and personal interviews to find the stories about what happened here.
It all started when the Republic of Texas was annexed to the United States in 1845.  Next came a few hardy settlers demanding protection from marauding Indians.  Protecting the early settlers came the Army, followed by ranchers with cattle raising ideas.  More feuds, more fights, and eventually the buffalo hunters arrived decimating the great buffalo herds that provided sustenance for the Indians.  Through all this Fort Griffin with its bustling activity naturally attracted gamblers, prostitutes, rustlers and gunmen who in turn were soon at odds with the local vigilance committee.
Rustlers and thieves were regularly hanged by night-riding locals seeking law and order, and sometimes revenge.  Meanwhile, infamous people such as Henry "Doc" Holliday. Big Nose Kate, Pat Garrett, Lottie Deno, Wyatt Earp and a passel of lesser-known characters who were just as vicious and handy with guns came through town making plenty of trouble.  Several chapters in the book are dedicated to downtown merchants, newspaper editors and the otherwise law abiding, but the real story concerning Fort Griffin seems to be about the tough, gritty, ambitious folks who were willing to shoot first and ask questions later.
This book is filled with odd and unusual characters who lived and sometimes died in Fort Griffin. For instance, Mrs. Lam drove a fast-moving buggy to town to try to save her husband from the vigilantes, but arrived too late.  A man named Brock spent years traveling about the country trying to find a man he was accused of murdering in Fort Griffin because Brock wanted to clear his name.
Fort Griffin is compared with other tough towns such as Dodge City and Tombstone, but Fort Griffin was not to become a tourist town or a modern-day survivor.  Only a few scraps of lumber and the walls of the Fort Griffin Lodge No. 489 remained in 1992 when this book was written.  Each year locals gathered to celebrate the old town's history filled with cowboys, buffalo hunters, soldiers, soiled doves, gamblers and vigilantes.  Researchers will find that browsing through the various chapters will likely turn up some valuable information not easily found elsewhere.  I discovered Glen Reynolds, a sheriff killed by Apaches in Arizona, had originally ridden at least one time with the vigilantes in Fort Griffin.  This book is a little treasure for sure.  It belongs in your Old West library.
Publisher's Note:  The reviewer, Phyllis Morreale-de la Garza, is the author of numerous books about the Old West including Death For Dinner; the Benders of (Old) Kansas, Silk Label Books, P.O. Box 700, Unionville, New York 10988-0700. Phone (845)-726-3434.  Www.silklabelbooks.com
---
---
---
---
---
---
---
---
---
---
---
---
---
---
---
---
---
---
---
---
---
---
---
---