Old West Book Review: The Hog Ranches of Wyoming; Liquor, Lust and Lies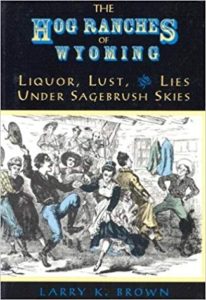 The Hog Ranches of Wyoming; Liquor, Lust and Lies Under Sagebrush Skies, Larry K. Brown, High Plains Press, (800-552-7819) $9.95, Paperback.
When the comment is made by those who know little about the Old West, "The Wild West is a Hollywood myth," I always chuckle.  I can't imagine life getting much wilder than at the "Hog Ranches" that appeared near almost every military fort on the old frontier.  Whiskey, women, card games, shoot-outs, music and murder were all part of these establishments built for the express purpose of separating lonely soldiers, wayward frontiersman and even cowboys from their wages.
This book centers around those infamous establishments far from law and order where good guys, bad guys, lawmen, cowpokes, soldiers and highwaymen gathered for a good old time.  The author has sifted through newspaper articles, court documents, letters and census records, Military Post Returns, and diaries for the facts regarding some Wyoming Hog Ranches we don't usually read about in history books.
The origin of the name "Hog Ranch" suggests a certain unpleasantness about the property, but it is pointed out while hogs were sometimes raised here, the name probably referred to the lowdown characters who inhabited these walls.  How the name came to be has never been entirely proven, but what has been proven are the illicit activities that drew lonely people to these dens of iniquity.  Here they found camaraderie and enjoyed the crude buildings, rustic furniture, out-of-tune pianos, earthen floors, missed spittoons and mortal injuries that sometimes ended the careers of those who paid their money and took their chances.
With names like "Bad Man Charlie Anderson's Hog Ranch", and "Six Mile Hog Ranch", they were visited by members of the Wild Bunch and even Alfred Packer, the notorious cannibal who had escaped from prison after dining on at least seven of his fellow travelers during a snow storm in the Rockies.
To say the characters found at these places were dangerous, is putting it mildly.  Calamity Jane worked for a time at the Six Mile Hog Ranch.  She is pictured in the book dressed in garb once worn by her military customers.  Calamity stares back at the camera while showing off a big pistol on her hip.  Other stories include women who helped their husbands run the saloons at these ranches and tell how they cheated customers when selling drinks.  One interesting character was "Old Mother Featherlegs" who ran her place of entertainment on the Cheyenne-Black Hills stage route in 1876.  The lady was said to have flowing red hair and wore a pair of long red pantalettes.  When riding horseback, she was compared by a local wag to a "feather-legged chicken in a high wind."  In cahoots with some local road agents, Featherlegs hid their stolen money under her shack, but got mixed up with a trapper nicknamed "Dangerous Dick" who eventually murdered her for the dough.  Her body was found shot in the back; Dick's moccasin prints were recognized nearby.
Murder, shoot-outs, venereal disease and double-cross were all part of the game people played when they associated with the hog ranches.  Tragedy struck in other ways as was evidenced by the tiny graves on nearby hillsides where some soiled doves buried children born here.  Cold, snow, dust and disease were all part of the desolate lifestyle known to these girls.
Some of the stories related here are humorous, some are harsh and sad.  This book is only 120 pages in length, but is filled of interesting material including photographs of some buildings, a few felons, a couple of sheriffs, and a peek into the wild side of life on the Old Frontier.
Grab a copy HERE.
Editor's Note: The reviewer, Phyllis Morreale de la Garza is the author of numerous books including Wild Women of the Old West, published by Silk Label Books, P.O. Box 700, Unionville, New York 10988-0700 (845) 726-3434
*Courtesy of Chronicle of the Old West newspaper, for more click HERE.