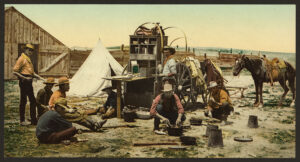 In our feature Heard Around the Bunkhouse we bring you Western and Old West Speak that they used back in the Wild West. Even we are amazed by the humor and originality they used. Hope you enjoy them, and send us your favorite terms from those past times.
COLD AS A WAGON WHEEL: A person who has been dead for several days.
DEAD MEAL: A corpse.
NOT ONE'S FUNERAL: None of one's business.
SHOTGUN CHAPS: Leather leggings that encased the whole leg. The looks are similar to a double barreled shotgun.
SHOTGUN HOUSE: A house built with all the rooms in a row.
---
---
---
---
---
---
---
---
---