Heard Around The Bunkhouse #8 – Western Frontier Terms and Sayings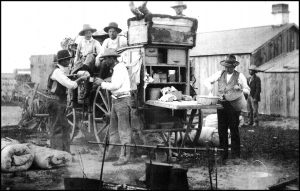 In our feature Heard Around the Bunkhouse we bring you Western frontier terms and sayings that they used back in the Old West. Hope you enjoy them, and send us your favorite terms from those past times.
WEARING THE BUSTLE WRONG: A pregnant woman.
BEST BID AND TUCKER: Wearing your best clothes.
GET THE MITTEN: Being rejected by a lover.
BEND AN ELBOW – Have a drink.
BANG UP JOB – First Rate.
PONY UP – Hurry Up.
ROOSTERED – Drunk.
*Courtesy of Chronicle of the Old West newspaper, for more click HERE.