Old West Book Review: Thunder in the West; The Life and Legends of Billy the Kid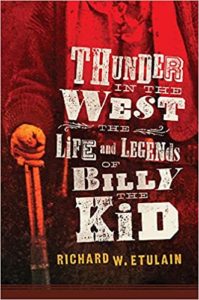 Thunder in the West; The Life and Legends of Billy the Kid, Richard W. Etulain, University of Oklahoma Press, $29.95, Non-fiction, Cloth. Illustrations, Photos, Essay on Sources, Bibliography, Index.
At various times he was called Henry McCarty, Kid Antrim, and Billy Bonney.  However, most of us know him as Billy the Kid.  This biography of the Western outlaw is carefully researched and well written in a style that keeps readers turning pages even though we have been exposed to this character via books and movies as far back as we can remember.
The author, Richard W. Etutain is the former Director of the University of New Mexico. He has had a long and important career as a writer and editor of more than 50 books pertaining to the American West.  This book takes the reader on a journey beginning with Billy's original birth place in New York in 1859.  His mother moved west with young Billy and his one brother when the boys were children; it is not known who Billy's father was.  The family's trait continued to New Mexico Territory, and the information includes the death of Billy's kind, hardworking mother of consumption.  Billy meandered after that from one situation to another.
Without real parental supervision or help, he drifted in and out of trouble, killed a man in Arizona before his 20th birthday, fled back to New Mexico ahead of a hot Arizona posse, and was arrested several times always managing to escape.  Later, arrested for murders in New Mexico, he was jailed and awaited execution when he escaped again this time shooting and killing two sheriff's deputies in Lincoln, New Mexico.
New Mexico politics comes into the life of Billy the Kid as he got mixed up in shoot-outs and became a gun-for-hire as various powerful political factions and wealthy land owners vied for power.  In time, Billy ran with a gang of outlaws stealing horses and cattle.
Meanwhile, there were many people who considered Billy a good friend and many girls were attracted to him.  He had friends in the Hispanic community, and spoke Spanish fluently.  Eventually Billy was shot and killed by Sheriff Pat Garret inside a house in Fort Sumner, New Mexico in 1881.
Everything pertaining to Billy the Kid has some controversy involved.  His birth, his little known family history, his mothers brief life, her marriage to a man who seemed to take no interest in his stepson, Billy's involvement with politicians as well as land owners and desperadoes is all mired in controversy.  As his fame grew, many people remembered him and wrote or talked about their relationships with him even many years after his death, thus adding to the intrigue.
The second part of the book delves into all the best-known books and movies featuring Billy the Kid.  Etulain separates fact from fiction, complimenting those authors who have done serious and lengthy research.  The movies featuring Billy the Kid are mostly contrived plots filled with fistfight action and gun battles.  In the end we are still wondering why all the interest in a young, wayward character who even by modern standards would be known as little more than a dangerous juvenile delinquent.
This book takes the reader on a detailed, from beginning to end, Wild West journey featuring everything you ever wanted to know about Billy the Kid. It belongs in your Old West library.
Editor's Note:   The reviewer, Phyllis Morreale-de La Garza is the author of many books about the Old West, including Death For Dinner, the Benders of (Old) Kansas, Silk Label Books, P.O. Box 399, Unionville, New York 10988. www.silklabelbooks.com