Old West Book Review: A Thousand Texas Longhorns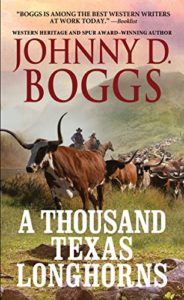 A Thousand Texas Longhorns, Johnny D. Boggs, Pinnacle Books Kensington Publishing, paperback, $8.99, 500 Pgs, Western Fiction.
The time period for this novel is shortly after the American Civil War.  The protagonist is a surly individual named Nelson Story living in a rough mining town in Montana Territory.  Nelson Story wants to make money and become a successful rancher, and gets the brainstorm to acquire a herd of cattle lie must buy in Texas, and drive the herd back to Montana where the population is hungry for beef.  So the adventure begins.  He heads for Texas and prepares to drive a herd of longhorns all the way across the country filled with sheriff's posses and angry homesteaders afraid the Texas cattle will bring fever to their own stock.  Meanwhile Nelson Story has to maintain discipline among the drovers and freight wagon drivers, plus having to face electrical storms, driving rain, roaring rivers, drown cowboys, hordes of insects, cantankerous military commanders and Indians on the warpath.
Some of the cowboys are ex-Civil War veterans, both North and South.  Two young women disguised as men sign on to drive freight wagons filled with goods for the trip.  One is wanted for murder and both fool Nelson Story until one gets her clothing eaten off during a locust attack.  Tired men commit mutiny, one cowboy dies in river, another is the victim of a rattlesnake, plus several others are brutally killed by Sioux stalking the herd hoping to rustle horses and beeves.
Nelson Story left a wife back in Montana when he skedaddled for Texas, and the book switches occasionally to what is going on with her as she anxiously awaits her husband's return.  She is pregnant when he departs, and must handle delivering and caring for a baby while keeping her meager household together.  Her doctor fails in love with her although she remains faithful to Nelson Story, the author takes his readers from the gritty trouble-filled cattle drive to the desperately poor circumstances of a Montana mining town struggling to survive hard times, including a diphtheria epidemic.
Nelson Story eventually makes it to Montana with most of the herd, and there is a happy reunion with his wife who is nearly as tough as he is.  Unfortunately readers never really get to know Nelson Story.  He's tough and determined, but rarely shows empathy or compassion that we can relate to.  We never find ourselves cheering for his success.  His quick temper and tough as nails attitude works to bring in the herd, but we never feel like we'd want to ride with him.  Don't look here for a John: Wayne or Matt Dillon hero.  This story is mostly about grit and determination with little room for sentiment.
Author Johnny D. Boggs, a Spur Award winner, knows his business.  Before writing this book, he followed the trail in an automobile to get the feel of the land, weather, and what it must have been like to cover all those hard miles on horseback.  It is well told, with lots of realistic Old West action, and sometimes a tough book to read, but we find this story a good Western adventure for sure.
Editor's Note: The reviewer Phyllis Morreale-de la Garza is the author of numerous books about the Old West, including Lost Roundup, published by Silk Label Books, P.O. Box 399, Unionville, New York, 10988, Ph. (845) 726-3434. www.silklabelbooks.com