Old West Book Reviews: Last Warrior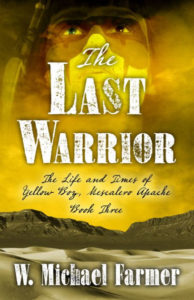 The Last Warrior, W. Michael Farmer, Five Star Publishing, $25.95, Cloth. Historical Fiction.
This is the third book in the series featuring the Mescalero Apache known as "Yellow Boy." Earlier books in this series are Killer of Witches, and Blood of the Devil.
Yellow Boy lived sometime from 1860 through 1950, giving the author Michael Farmer an historical time frame through which the Mescalero Apaches survived the great changes brought upon them due to the arrival and domination of white men in the Southwest.
These Yellow Boy books are not only exciting, but help give readers an understanding of Apache culture. Their food, living conditions, beliefs and traditions are carefully woven into the stories. Some words in Apache are introduced, and fictional characters are mixed with some real people who lived during this time. Everything is carefully researched.
This third book is narrated by Yellow Boy himself as he tells his life story to another fictional character, Henry Fountain, who, as a child, had been rescued by Yellow Boy and has remained a close friend and ally of his Apache friend and teacher. While Henry listens, Yellow Boy explains about the most important adventures of his life dealing with both white people and various Apache enemies, plus some escapades that took Yellow Boy far into Mexico while having to deal with characters such as Pancho Villa.
Readers like Yellow Boy. He is not only a straight shooter in life, but a keen marksman having special Powers. A crack shot with his rifle, he is highly respected and carries great pride in the handling of firearms. He uses that to his advantage, but remains always fair in his dealings with friends as well as foe.
In this story Yellow Boy is determined to keep his family safe, while making necessary adjustments to their new life on a reservation. The story moves along quickly with good descriptions of the countryside, weather, animals, and all that is encountered during long rides through this unforgiving desert region.
We learn how a vindictive witch, who is the half-sister of the villain in a previous story, is determined to get even with Yellow Boy for having killed her murderous brother. This witch is nearly as bad as her brother and Yellow Boy must find a way to settle her hash. Her name is Ojo Verde, having one green eye and one brown eye. She plots the demise of Yellow Boy, cooking up all sorts of terrible revenge.
Of course Yellow Boy wins at the end of the story, but just when he is resting on his laurels and enjoying a peaceful smoke, there is more trouble on the horizon. Yellow Boy and both his wives hear talk about some missing friends. Supplies are short, and winter is coming on. It looks like Yellow Boy is in for yet another exciting adventure.
Stay Tuned.
Publisher's Notes: The reviewer, Phyllis Morreale-de la Garza is the author of numerous books about the Old West, including Death For Dinner, the Benders of (Old) Kansas, Silk Label Books, P.O. Box 399, Unionville, New York, 10988. Ph. (845) 726-3434. www.silklabelbooks.com
*Courtesy of Chronicle of the Old West newspaper, for more click HERE.