Heard Around the Bunkhouse #7: Western Phrases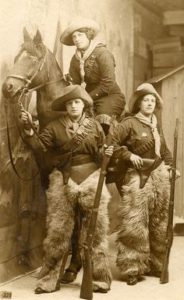 In our feature Heard Around the Bunkhouse we bring you Western phrases and sayings that they used back in the Old West. Hope you enjoy them, and send us your favorite terms from those past times.
ON THE PROD:  Anyone or anything wanting to do battle.
PROD POLE:  A long pole for prodding cattle into railroad cars.
PRIORY: Open land – either rolling or flat that is covered with grass.
BEAR SIGN: Cowboy term for donuts. They were highly regarded.
SHAVE TAIL: A green, inexperienced person.
KICK UP A ROW: Create a disturbance.
*Courtesy of Chronicle of the Old West newspaper, for more click HERE.