Old West Book Review: You Are Respectfully Invited to Attend My Execution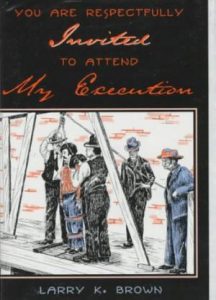 You Are Respectfully Invited to Attend My Execution, Larry K. Brown, High Plains Press, (1-800-552-7819), $11.95, Paperback.
Between 1871 and 1890, seven murderers were hanged in Wyoming Territory. Some others died (including one woman) in Wyoming at the hands of angry mobs, known as vigilantes.  However, this book concentrates on the seven legal executions.
Author Larry K. Brown has sifted through court documents, family histories, newspaper articles, and historic journals.  An astute observer of human nature, Brown's research is aimed at presenting a chilling picture of each crime, both victim as well as perpetrator, the arrest, trial, incarceration and finally the last steps of the condemned as they mounted the scaffold.
There are no happy endings here for the victims or the killers.  Murder is murder.  The victim's life ends suddenly and brutally, while the killer's own days are then numbered whether they want to believe it or not.  We, students of Old West history, are left trying to understand what leads a person to carry out such evil deeds while thinking they will escape the consequences.
Wyoming Territory from 1871 to 1890 was filled with adventurers, trappers, hunters, homesteaders, ex-military men packing iron, and sometimes shady individuals who experienced hard times and long waits between meals.  While some looked for work, others looked for trouble and a fast dollar.  The author explains in his introduction the purpose of the book, giving a brief history of capital punishment, its purpose and methods.  Whether the reader agrees or disagrees with capital punishment, this fascinating little book gives insight into the Old Western laws and how people dealt with this problem in the building of the new nation.
Wyoming Territory had to find ways to enforce law and order to encourage new settlement. Highwaymen, cattle rustlers and horse thieves were unwelcome.  Drifters were not encouraged to stay long.  Seven men committed atrocities that led them to the gallows, and they paid with their own lives.
John Boyer shot and killed two men for raping his mother and sister.  William "Tousant" Kensler shot a man while the two argued over a prostitute.  John Leroy Donovan beat a barber to death while the man slept, then stole his life savings.  George Cooke shot and killed his brother-in-law during a drunken argument.  John Owens killed a man with an axe for the purpose of stealing his money.  Benjamin Carter was a bully who beat up, then shot a young cowboy during a cattle drive.  George Black shot an old hermit inside his cabin over a land dispute.
Once caught, some of these men admitted their deed, others denied it; all hoped for last-minute reprieves.  Asking forgiveness, too late they craved comforting words from loved ones they had not considered when they turned to murder.  Punishment in the Wyoming Territory was swift, the executions were carried out within a short time after sentencing.  The author follows each man's thoughts and actions all the way to their last meal and beyond.
This is not a book you should read before going to bed at night!  It is less than 200 pages, but will cause readers to reflect upon choices we make, and the responsibility people must take for their own actions.  The reader is left to ponder what really lurked inside the hearts and minds of these killers as they acted upon their baser instincts.  For us, these stories should be lessons learned. 
Editor's Note: The reviewer, Phyllis Morreale-de la Garza is the author of numerous books about the Old West including the non-fiction book about the Arizona outlaw titled The Apache Kid, published by Westemlore Press, P.O. Box 35305, Tucson, Arizona 85740.
*Courtesy of Chronicle of the Old West newspaper, for more click HERE.