I See By Your Outfit, Historic Cowboy Gear of the Northern Plains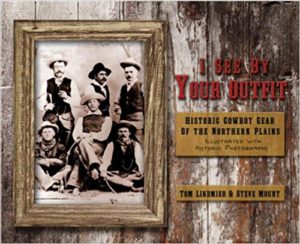 I See By Your Outfit, Historic Cowboy Gear of the Northern Plains, Tom Lindmier & Steve Mount, High Plains Press, Glendo, Wyoming. $19.95, Paperback. Photos, Illustrations, Bibliography, Index.
Here is yet another non-fiction winner published by High Plains Press.  Authors Tom Lindmier and Steve Mount have joined forces, writing a wonderfully accurate book filled with information about what real cowboys of the late 1800s looked like and wore on the American Northern Plains.
Every bit of clothing is described, from hats to boots, including favorite equipment used with their horses. Saddles, bits, bridles and spurs, ropes, saddle blankets and more fill these pages.  Readers find a list of names of providers of clothing and horse equipment like Montgomery Ward, Sears, Roebuck, and Porter Saddle and Harness Company appear, including the prices.  Additionally, the authors have not forgotten the guns.  Every type of shootin' iron the old-time cowboys used are pictured and discussed.  Names like Spencer, Sharps and Winchester fill the chapter on revolvers and rifles.
The book is filled with original photographs showing cowboys wearing shotgun chaps, mohair "woolies", and batwings.  Most men wore vests, a garment practical for all weather besides having pockets to stuff watches and other valuables.  You won't see fancy Stetsons, but a different shaped, mostly-flat brimmed hat meant to resist gusty winds.  It was known as "Boss of the Plains" and looked nothing like the hat Roy Rogers wore.  The book explains how the cowboy clothing and horse gear was mostly meant for practicality rather than rodeo flair.  These cowboys needed jeans, shirts and gloves to protect them from all the harsh elements from saddle sores to rope burns.  Spurs were meant to keep a horse alert to sudden starts, and bits with rollers and chains had their practical uses, too.
Page after page keeps the reader intrigued with good information as well as some personal letters written by the cowboys themselves as they told about life on a cattle drive.  The many photographs are particularly intriguing showing the men at work, or sitting on the ground beside a campfire.  Near the chuck wagon stands a sullen cook wiping his hands down his greasy apron while a cigarette dangles from his lip.  (This leaves you wondering what may have fallen into the stew.)  The dust, the campfire smoke, the rough and ready cows and horses are all pictured here.
The chuck wagon was home. Pots, pans, Dutch ovens, water barrels and stacks of coffee, flour, sides of bacon, beans, sugar, dried apples and peaches, plus rice made up the load.  There were canned tomatoes mixed with the emergency medical supplies.  Chuck wagons and how they operated is explained, while another vehicle called a "bed wagon" was included in the roundups, but is seldom seen in movies.  This wagon carried the cowboy's gear…blankets and bedrolls, and other personal items necessary for the long trips.
Readers learn something new with every page, the old-time pictures are marvelous.  Some studio photos the cowboys had made of themselves shaved and clipped gives us a glimpse of their showoff side, too.
Several of the pictures taken on the range show Nate Champion, a hero of the Johnson County War.  Nate, a brazen tough-guy who stood up to the big ranchers, was murdered by a gang of Texas gunslingers for hire.  Nate's tragic story is told elsewhere, but he's shown right here in the middle of things, riding with his pals reminding us what a real western hero was all about.
Whether you are reading for fun, or a serious writer/researcher working on an old-west project requiring authenticity, this is the book for you.
Publisher's Note: The reviewer, Phyllis Morreale-de Ia Garza is the author of numerous books about the Old West including Death For Dinner, the Benders of (Old) Kansas, published by Silk Label Books, P.O. Box 399, Unionville, New York 10988. www.silklabelbooks.com