Old West Book Review: Nighthawk Rising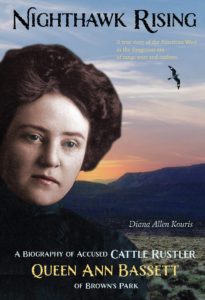 Nighthawk Rising, Diana Allen Kouris, High Plains Press, $19.95, Paperback 416 pp, Photos, Maps, Notes, Bibliography, Index.
Nighthawk Rising is the fascinating story is the biography of "Queen" Ann Bassett, an accused cattle rustler living in Brown's Park in the 1880s through the turn of the century.  Brown's Park is a wildly beautiful area spanning the rugged mountains throughout western Utah, southern Wyoming, and eastern Colorado.  This is the land of the Wild Bunch, Butch Cassidy, the Sundance Kid, deadly range wars and Tom Horn.
Ann Bassett's parents settled here, trying to make a living in the difficult cattle business.  Ann's mother ruled the roost, a tough woman who rode sidesaddle while directing her cowboys.  Ann's father was a quiet gentleman more likely to be found at home writing poetry.
Ann and her three siblings grew up learning self-sufficiency.  The little girl was a tough cookie, riding the most spirited broncs, and refusing sidesaddles.  She dressed in buckskin trousers, was a top hand with a lariat, and could handle guns.  Headstrong and resisting discipline, as a teenager she roped a grizzly cub and got her horse killed when mama bear came to the rescue.  Ann got a well-deserved spanking from one of the cowboys who saved her life, but even that did not deter the girl from adventuresome deeds.  She was always in the middle of things, whether driving cattle in a snow storm or crawling into a cave to kill coyote pups.
Sadly, Ann's mother died suddenly of appendicitis.  It now fell on Ann to be a leader in the family.  These changes in the girl's life coincide with the range war sweeping through Brown's Park as the big ranchers tried to rid themselves of competition from smaller outfits.  Tom Horn was hired as a "range detective".  Unsolved murders occurred thereafter, including the shooting death of Mat Rash, a handsome young cattleman who dated Ann Bassett and was destined to become her husband until his bullet-riddled body was found in the hills, most likely murdered by Tom Horn.
This tragic loss undoubtedly shaped Ann's personal life thereafter.  She never had a young husband.  She had several husbands, all older men, and divorces.  Her life seemed forever in turmoil in her effort to protect her ranch way of life.  She moved from one place to another, was involved in legal disputes, was accused of being a ""rustler", and nicknamed "Queen Ann" because of her rebellious nature.
Don't look here for a hard riding bandit queen leading a gang of outlaws.  Ann's day by day life shows a gritty woman determined to survive against powerful men and forces beyond her control.
Diana Allen Kouris, the author of Nighthawk Rising, herself grew up in the Brown's Park region. Her family is in the cattle business.  Even though she was born many years after Queen Ann rode the range, Kouris has been able to relate to Brown's Park and the people.  Her writing is filled with original detail.  We detect the author really knows what she is writing about, generating a feeling of respect and empathy for Queen Ann when readers turn the last page: a truly haunting story.
Publisher's Notes: The reviewer, Phyllis Morreale-de la Garza is the author of numerous books about the Old West, including Death For Dinner, the Benders of (Old) Kansas, Silk Label Books, P.O. Box 399, Unionville, New York, 10988.  Ph. (845) 726-3434. www.silklabelbooks.com
*Courtesy of Chronicle of the Old West newspaper, for more click HERE.