Old West Book Review: The Cornett-Whitley Gang; Violence Unleashed in Texas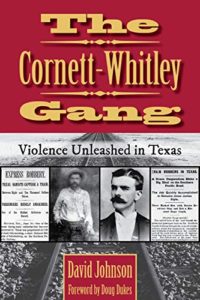 The Cornett-Whitley Gang; Violence Unleashed in Texas, David Johnson, University of North Texas Press, $29.95, Cloth. Non-fiction, 320 pages, Illustrations, Notes, Bibliography, Index.
The time period for this book is the late 1880s, the location is Texas, and the topic is about a gang of train robbers.  The names of these men are mostly unfamiliar to readers of today.  None of them stood out above the rest in romantic familiarity.  Don't look for Butch and Sundance, or the James brothers.  These men came together in a secret hide-away, made their plans, and then held up the trains.  Afterwards they parted, at least for a while, and did a good job of fooling law enforcement.  Some were married with children, most were solitary drifters who kept low profiles.
There were three important train robberies that made headlines.  One at McNeal Station, another at Flatonia, and finally a third robbery at a place called the Verdigris Bridge.  All three robberies were daring, well-planned, done ruthlessly and with precision.  Some people got hurt, a few were killed, one lady passenger was pistol whipped for being too slow in turning over her valuables.  Money and personal items were grabbed before the gang mounted up and disappeared into the darkness.
The book tells how law enforcement was blamed and even chided in newspaper accounts, embarrassed by the Media for their inability to catch the bad guys right away.  The Texas train robberies made headlines all across the United States and even some foreign countries.  Newspaper editors were certain all the bad publicity would be detrimental to the financial growth of Texas.
Law enforcement entities such as the Texas Rangers, federal marshals, railroad detectives and Wells Fargo eventually worked together sharing information until most of the robbers were caught.  Some of this work remains in place even to this day.  However, in the old days before computers and telephones, news about the robberies moved laboriously via telegraph, word of mouth or riders on horseback.
Letters at the back of the book contain personal accounts from various individuals who were involved in all this.  Some romantic stories told were clarified.  It seems a lot of people had a lot to say as the robbing of trains made big news.  Eventually arrested, one robber, "Bud" Powell, alias John Thompson wrote a lengthy autobiographical account filled with original detail as he explains about some of his adventures after he left the gang.  He traveled for several years evading the law and claimed he tried to "go straight." Words coming directly from the outlaw give readers much to think about.
The author of the book, David Johnson has penned other important nonfiction books including John Ringo, King of the Cowboys; The Mason County "Hoo Doo" War, and The Horrell Wars.  All of David Johnson's books are well-researched, easy to read, and packed with plenty of information.  If you are particularly interested in Texas train robbers, this book is for you.
Publisher's Notes: The reviewer, Phyllis Morreale-de la Garza is the author of numerous books about the Old West, including Death For Dinner, the Bender of (Old) Kansas.  Silk Label Books, P.O. Box 399, Unionville, New York, 10988. Ph. (845) 726-3434. www.silklabelbooks.com
*Courtesy of Chronicle of the Old West newspaper, for more click HERE.