Chuckwagon: Lazy Cobbler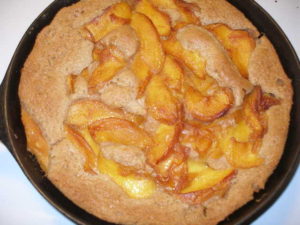 Here is an updated version of an old cowboy dessert Lazy Cobbler, sometimes called dump cake.
Use a 12" Dutch oven. (Serves 12.)
Prepare 15 charcoal briquettes for the bottom and 10 for the top.
2 cans sliced peaches with syrup. (You can also use pineapple.)
1 package of white or yellow cake mix.
1/3 stick of butter.
Ground cinnamon.
Place oven over hot bottom briquettes. Pour contents of peach cans into oven. Spread dry cake mix evenly over peaches. Sprinkle on cinnamon. Cut butter into thin slices and place on top. Put lid on top of oven, add hot briquettes and bake for about 45 minutes or until done.
If you would like to mix the peaches into the cake, do so when the cobbler is about half done, and continue baking until done.
*Courtesy of Chronicle of the Old West newspaper, for more click HERE.