Old West Book Review: When Law Was In The Holster- The Frontier Life of Bob Paul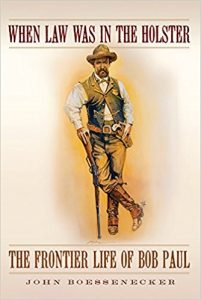 When Law Was In The Holster – The Frontier Life of Bob Paul, John Boessenecker, University of Oklahoma Press, (1-800-627-7377) $34.95, Hardcover.464 pages, Illustrations, Maps, Footnotes, Bibliography, Index.
This is the biography of Sheriff Bob Paul, a frontier lawman in Old Arizona.  He is remembered mostly as the shotgun messenger riding the Tombstone stage that was ambushed one night in March, 1881.  The driver, Bud Phitpott was killed during a volley of gunshots fired by the robbers hidden beside the road.  Philpott's body hurled over the side of the coach while the driving lines slipped away and the terrified horses bolted.  Bob Paul worked the brake for nearly a mile until he finally got the runaway team under control.
This stage holdup had to do with Tombstone history and has been told many times in connection with the days of Doc Holliday and the Earps.  However, Bob Paul was far more important as a lawman, and his history is filled with excitement and derring-do that more than matched the Earps who dabbled periodically in law enforcement while Bob Paul spent nearly 50 years behind a badge.
Paul was born on June 12, 1830 in Lowell, Massachusetts.  The youngest of three brothers, Paul spent his first few years in Lowell before the family moved to the seaport town of New Bedford.  Here, they worked hard in their boardinghouse.
Paul's father died in 1839, leaving the family in dire financial straits.  Young Bob, only 12 years old, signed on as a cabin boy with the 197-ton whale ship Majestic.
Thus began a succession of experiences on a variety of whale ships for the next 8 years. Bob Paul advanced from cabin boy to second or third mate, sailing the South Pacific from Peru to the Sea of Japan and back to Hawaii.
In 1848, Paul learned of the huge gold strike in California, and seething with gold fever, asked for a discharge from the whale ship Nassau.  He sailed right away for San Francisco.  In time his prospecting led to law enforcement, as he learned the vagaries of the gold mining business did not always lead to economic security.  Paul, a straight-shooter who stood over six feet tall, with massive frame and lighting fists, had a no-nonsense demeanor.  In the rough and tumble goldfields, he arrested claim jumpers, rescued a number of individuals from vigilante justice, and himself oversaw legal hangings when he became sheriff of Calaveras County.
The book discusses his marriage to a young Catholic woman, followed by his employment as a Wells Fargo detective.  Eventually the Paul family, having added a number of children, moved from California to Pima County, Arizona where Margaret lived with the children in Tucson.
In Cochise County Paul dealt with Tombstone politics, the rustler element, and a succession of notorious outlaws.  He supervised the execution of the murderers who perpetrated the "Bisbee Massacre", and eventually ran for Pima County Sheriff.  For the rest of his life he dealt with political enemies, newspaper critics, and family tragedies.  Sheriff Paul is the man who arrested and held the infamous lady stagecoach robber Pearl Hart in his Tucson jail.
Sheriff Bob 'Paul is not a romantic figure wearing a long black coat, or having a squadron of brothers who looked just like him.  The one woman in his life was his beloved wife from whom he never strayed.  Hollywood did not single him out to star in romanticized flicks, but Sheriff Bob Paul was the real deal, and deserves to be finally recognized.  This fascinating story so well written and carefully researched is certainly an important addition to your Old West library.  Kudos to author John Boessenecker for a job well done. 
Editor's Note:  The reviewer, Phyllis Morreale-de la Garza is the author of 15 published books about the Old West, including Nine Days at Dragoon Springs, published by Silk Label Books, P. 0. Box 700, Unionville, New York 10988-0700 www.silklabelbooks.com.
*Courtesy of Chronicle of the Old West newspaper, for more click HERE.