SILVER SCREEN COWBOY PROJECT
Boy was I taken back to the days of yesteryear as I attended the Silver Screen Project Show put on by Marvin O'Dell and friends.
This is a multi-media show about the heyday of the "B" and TV Westerns, with film clips, photos, l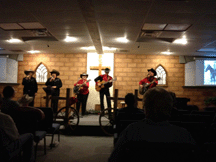 ive songs and commentary. Everyone was covered from Tom Mix to Roy Rogers. Incidentally, Tom and Roy weren't the first and last of the B-Western heroes, they're just two of my favorites.
Incidentally, they take their show on the road. If you would be interested in their performing in your area, contact Marvin O'Dell at meoteo@aol.com.
I'm working on getting them up in the White Mountains of Arizona in August.