RENDEZVOUS OF GUNFIGHTERS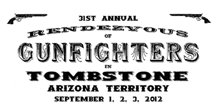 This Friday we're headed down to Tombstone, Arizona for the Labor Day weekend's Rendezvous of Gunfighters.
For 31 years our friend Ben Traywick has been hosting this gathering of gunfight groups from around the country.  The groups will be performing their shows in the O.K. Corral.
The festivities begin Saturday, September 1st and run through Monday, September 3rd.  An 1880's costume parade will be held on Sunday, September 2nd at 12:00 pm.  During the parade a panel of independent judges will choose the most authentic appearing costumes for the 1880-1890 era in the following categories:  Gunfighter, Cowboy, Male Townsperson, Madame, Saloon Woman, Female Townsperson, Children (16 & under).
If you happen to be in the area, stop by and say hi as we walk the streets of Tombstone.