Pearl Grey, Future Old West Author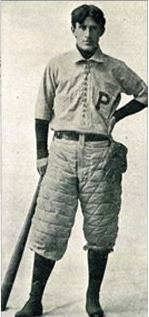 Today's story is about a man who was a dentist.  But he gave up his career to go out west and gain fame in a completely different profession.  Do you think you know the person I'm talking about?  You may be surprised: Pearl Grey was born on January 31, 1872.  He was a talented baseball player, and played for the University of Pennsylvania while getting a degree in dentistry.  Pearl was scheduled to follow in his father's footsteps as a dentist.  Looking for some excitement, he played some semi-pro baseball.  But that didn't satisfy his need.
Incidentally, Pearl Grey never liked his first name, which was thought by everyone to be a woman's name.  So he decided to change it to his mother's maiden name, Zane.
Pearl Zane Grey (January 31, 1872 – October 23, 1939) was an American author and dentist best known for his popular adventure novels and stories associated with the Western genre in literature and the arts; he idealized the American frontier. Riders of the Purple Sage (1912) was his best-selling book.
In addition to the commercial success of his printed works, his books have had second lives and continuing influence when adapted as films and television productions. His novels and short stories have been adapted into 112 films, two television episodes, and a television series, Dick Powell's Zane Grey Theater.