Old West Book Review: Lost Mines and Buried Treasures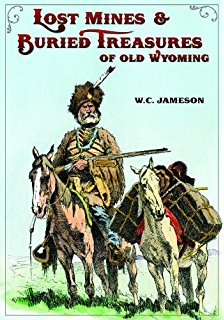 Lost Mines and Buried Treasures. This dandy little book is fun to read, easy to understand, and is chock full of ideas about hunting for lost treasure in Wyoming.
The author, W.C. Jameson has long been interested in searching for hidden loot, and when still a boy, helped cart gold bars out of the Guadalupe Mountains in Old Mexico.  Thus gold fever hit him hard.  Now Jameson writes books, conducts writer's workshops, plays a guitar and sings his Western songs all across the United States.  I myself met Jameson in El Paso, Texas some years ago when he was the president of Western Writers of America.  Cordial, witty, and easy to like, wearing a beard and long Wyatt Earp coat, he helped aspiring writers find publication.  He was even instrumental in having the SPUR awards televised that year at the Camino Real on the Mexican border.
Inside this latest book readers will find 16 stories about lost treasure and how it came to be.  Some have to do with stagecoach robberies, holdups and bank shoot-outs that went wrong.  Others tell of gold nuggets glistening under the water of cold mountain streams.
Sometimes robbers hid the loot, only to be gunned down by local posses before they could tell the location of buried strong boxes.  Other individuals panned gold from creeks only to be murdered by Indians.  Some men found the gold all right, but were unable to carry it out of the hills and when they returned later with help, they became disoriented and never could pinpoint the location of the stash.
The idea of sinking a shovel into the earth, hitting a strongbox, and pulling up a million dollar bonanza is a fantasy to many of us, but some brave souls really do strike out with maps and shovels to try their luck.  Here you will find the Lost Cabin Gold Mine where rich men lost their lives to marauding Indians and the Snake River Pothole Gold where glistening nuggets lured men to their deaths. The Birdseye Stage Station Gold heist resulted in $30,000 in gold coins buried somewhere near the robbery site.  But who can find it now?
Indian raids, lost jade deposits, shoot-outs and the usual double-cross when gold is involved fill these pages.  Jameson makes the stories sound believable since he gives directions and information gleaned from original sources.  My particular favorite is the buried treasure of Nate Champion, whom I have always considered one of the heroes of the Johnson County Range War.  Nate Champion single-handedly held off a passel of hired Texas gunmen.  Alone inside his cabin, Champion kept a diary of what happened throughout that long day so those who found his body would know what happened there.  According to the Jameson account, Nate had a stash of gold buried outside the cabin his killers never found.
There is the story of Big Nose George Parrot who was not only the ugliest man alive, but a killer and gun-slinging outlaw reported to have buried $150,000 in stolen loot.  Of course George died with his lips sealed and his neck stretched by vigilantes.  The desecration of his body parts by the local doctor gets even worse as Parrot's tanned hide became a pair of shoes, and the top of his skull an ashtray.  To this day folks still hunt in vain for poor Parrot's buried treasure.
I suspect the sale of this book will provide more loot than might be found buried beside a burned-out cabin, but readers will have a grand time exploring these tales and who knows?  You might be the lucky one.
Jameson's stories are always fun.  Sometimes his topics are controversial, like who is really buried in Billy the Kid's grave.  You will have a good time reading his stories, but remember Jameson might just be pulling your leg. You can join in on the fun and grab this book HERE.
Editor's Note:  The Reviewer, Phyllis Morreale-de la Garza is the author of many published books about the Old West. Her most recent is a novel titled Hell Horse Winter of the Apache Kid published by Silk Label Books, P.O. Box 700, Unionville, New York 10988 Www. silklabelbooks.com.
*Courtesy of Chronicle of the Old West newspaper, for more click  HERE.