FORT PHIL KEARNY
On this date back in 1866 construction on Fort Phil Kearny, one of the most important army outposts of the Old West began.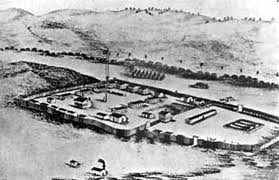 It was one of a series of forts that were to guard the Bozeman Trail.
Three years earlier John Bozeman had blazed a trail that headed northwest to the gold fields of Montana. The area of the trail was the traditional hunting grounds of the Sioux, and violated a treaty with Chief Red Cloud. So Red Cloud conducted raids along the trail.

Colonel Henry Carrington did the design and supervised the construction. It was the size of three football fields.

Even with the forts the army found it impossible to stop the Indian attacks. So, in 1868 the forts were abandoned and the trail closed in a peace treaty with the Indians. Immediately after the fort was abandoned, the Indians burned it to the ground.