William Quantrill Dies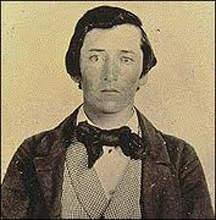 On June 6, 1865 William Quantrill dies of wounds encountered in a skirmish with Union Soldiers.
At one time I referred to Quantrill as a man without any redeeming qualities. I was promptly told not to go into the Deep South and say that. I may not return under my own steam.
William Quantrill was Frank and Jesse James' mentor. He was born in Ohio and after getting into trouble in Utah and Kansas he fled to Missouri where he became a strong supporter of slavery, even getting into violent conflicts with neighbors.
When the Civil War broke out…It's also referred to by some as "the war of Northern aggression"…he formed a group of gorilla irregulars. As indicated earlier, Frank and Jesse James were members of Quantrill's Raiders.
Quantrill not only attacked Union forces, he would attack unguarded pro-Union towns; most notably Lawrence, Kansas where the raiders shot every man and boy they could find. After killing 150 civilians, they left the town ablaze.
Incidentally, since Quantrill's guerillas weren't considered legitimate soldiers, they were never given amnesty after the conclusion of the war.