THIS WEEK IN THE OLD WEST
How would you like to start each week off with an interesting story about the Old West?  We have a "This Week In The Old West" feature where each Sunday morning you will receive a story via email about something that happened in the current week back in the Old West.  And it's FREE!  Here's just a part of this week's story:
Today's story is about a man who was a dentist.  But he gave up his career to go out west and gain fame in a completely different profession.  Do you think you know the person I'm talking about?  You may be surprised.
Pearl Grey was born on January 31, 1872.  He was a talented baseball player, and played for the University of Pennsylvania while getting a degree in dentistry.  Pearl was scheduled to follow in his father's footsteps as a dentist.  Looking for some excitement, he played some semi-pro baseball.  But that didn't satisfy his need.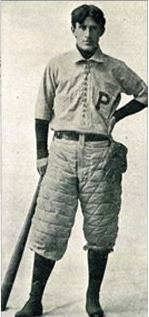 Incidentally, Pearl never liked his first name, which was thought by everyone to be a woman's name.  So he decided to change it to his mother's maiden name, Zane.
Then we tell some of the accomplishments of Zane Grey.  You can sign up by going to this link:  http://chronicleoftheoldwest.com/this_week_in_the_old_west-signup-new.shtml