Old West Phrases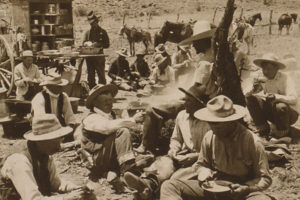 At Cowboy to Cowboy we get intrigued with Old West phrases. Here are some of our favorite descriptive terms:
PRAIRIE TENOR – A coyote.
BARKIN' AT A KNOT – Doing something useless.
WEARING THE BUSTLE WRONG – A pregnant woman.
ROUND BROWNS – Cow chips.
TEAR SQUEEZER – A sad story.
COLD AS A WAGON WHEEL – Dead
BEAR SIGN – Cowboy term for doughnuts. They were highly regarded.
SHAVE TAIL – A green, inexperienced person.
KICK UP A ROW – Create a disturbance.
THE WHOLE KIT AND CABOODLE – The entire thing.
BAZOO – Mouth as in "Shut your big bazoo."
GONER – Lost, dead.