Old West Book Review: The Many Loves of Buffalo Bill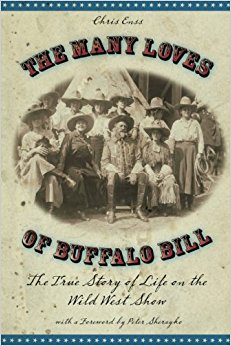 The Many Loves of Buffalo Bill. This book is a short introduction to the personal life of "Buffalo Bill" Cody who was born William F. Cody, in 1846 in Scott County, Iowa.  He had a brother and three sisters who adored him, plus a worried mother who wanted the best for her son.  William's father died when the boy was ten years old, and William became the "little man" of the family at an early age.  During his early years he worked as a freighter, buffalo hunter, army scout, Indian fighter, and daredevil rider for the Pony Express.
Tall and handsome, William cut a dashing figure with his long blonde hair and buckskin jackets.  He deftly handled wagons and horses, and was a crack shot.  From the very beginning of his working days, he was determined to take care of his mother and sisters, and accepted many dangerous jobs if the pay was good.
When still in his early twenties, he noticed Margaret Louisa Frederici's good looks and superb horsemanship.  Louisa was the daughter of a hard working farm family, who had been educated by Catholic nuns in a convent in St. Louis.  The girl won the heart of William Cody, but a rocky personal road was ahead for both people.  They married on March 6, 1866. Louisa had fallen madly in love with the dashing William Cody, but she eventually learned to despise him because of his philandering.  She wanted William to find a steady job close to home, but that was not to his liking.
Always a good provider, off Cody went into one adventure after another while his wife kept the home fires burning.  The couple had several children; two died at an early age.  Staying at home, making many of her husband's elaborate costumes, Louisa raised the children, took care of their ranch in Nebraska and stashed money William sent to her in properties she put into her own name.
"Buffalo Bill" had a dream about putting together a "Wild West" show, and that is exactly what he did.  Year after year, he traveled to cities throughout the United States and even Europe.  He employed hundreds of cowboys, cowgirls, sharpshooters, trick riders, stagecoach drivers, wild Indians and herds of horses and buffalo to fill his acts.
While William traveled constantly, he naturally attracted the attention of numerous women who fell for the dashing showman.  Some women became romantically involved with him, while others, such as Annie Oakley, found the relationship strictly business.  Nevertheless, Louisa harbored a burning jealously of her husband.  This did not improve when she made a surprise visit to a hotel where he stayed while on tour, and discovered "Mr. And Mrs. William Cody" were registered there.  Louisa's threats reverberated for many years thereafter.
As news filtered back to Louisa about William's affairs, including one of long standing with a beautiful blonde actress named Katherine Clemmons, the wife burned with resentment.  It was later told by servants that Louisa tried to poison William on more than one occasion by serving him a tea concoction that made him violently ill.
Cody eventually applied for a divorce, but Louisa fought the legal action and the judge ruled in her favor.  There was not enough evidence to prove attempted murder.  In time the two reconciled, and remained together until death did they part.
Buffalo Bill Cody passed away due to heart failure January 10, 1817 and was buried in Colorado on Lookout Mountain.  Thus ended the career of probably the most famous wild west showman of all time.  He met presidents as well as kings and queens, Indian chiefs and lady sharpshooters.  He had millions of adoring fans. A more flamboyant character is hard to imagine.
This little book is a first step toward uncovering the personal life of Buffalo Bill Cody.  It is fast-paced and fun to read. You can join the fun by grabbing this book HERE.
Editor's Note: Reviewer, Phyllis Morreale-de la Garza is the author of numerous books about the Old West including The Apache Kid, published by Westemlore Press, P. 0. Box 35305, Tucson, Arizona 85740
*Courtesy of Chronicle of the Old West newspaper, for more click HERE.