Old West Book Review: Captain John R. Hughes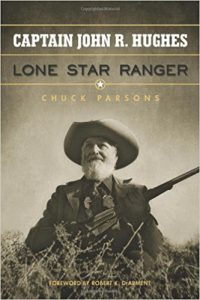 The true story of Texas Ranger Captain John R. Hughes is another splendid work of author Chuck Parsons who specializes in writing about the life and times of various outlaws and lawmen.  His non-fiction books are fast-paced, exciting Old West adventures.
This one begins with the early history of John R. Hughes' ancestors with examination of his younger days leading up to his adventuresome life with the Texas Rangers.  Hughes was born in 1855, one of seven children.  His family was in the farming business in the Midwest.
Young John was adventuresome, and when he became curious about stories he'd heard about Indian Territory," he ran away from home and worked at a number of jobs.  At one ranch he single-handedly recovered a herd of stolen horses from a band of outlaws.  His wandering led him all the way to Texas, where John and his older brother ran a horse operation for nine years known as the Long Hollow Ranch.
In time John Hughes joined the Texas Rangers, and author Parsons carefully follows the monthly return records that chronicle the unrelenting hunt for cattle rustlers, horse thieves, drunkards, embezzlers, smugglers, train robbers, and murderers.  Many photographs appear throughout the text of steely-eyed Texas Rangers packing plenty of iron, including one filled with more than thirty armed Rangers standing at the ready to prevent the Fitzsimmons-Maher prizefight in 1896. This event alone is worthy of a separate story.
Not all who dealt with the Rangers admired them.  Bat Masterson, who lived in Texas during his early career considered the Rangers little more than "a four-flushing band of swashbucklers."  This statement is wildly hilarious when one considers that Bat Masterson was associated with the Earps who were hardly choir boys.
This biography of Capt. John R. Hughes is filled with hard riding, straight-shooting derring-do.  Hughes covered thousands of miles in all kinds of weather, recovering stolen stock while faced with sudden death in ambushes and shootouts.  Combined with this, Hughes as Captain dealt with personal problems of his men along with administrative concerns and political distractions.
One photo in the book shows Hughes with the beautiful and mysterious Elfreda Wuerschmidt taken near Rockport, Texas.  This twenty-year-old beauty, the love of Hughes' life, died of unknown circumstances, leaving Captain Hughes a lifelong bachelor who often visited the lady's unmarked grave.  He never shared his broken-hearted feelings with snoopy biographers, thus we do not know how she died.
By 1915, after 27 years of faithful service, Hughes retired from the Texas Rangers.  Nearing sixty, he spent his remaining years gathering honors, and resounding best wishes from his legions of grateful and admiring citizens of the Lone Star State.  He became a celebrity giving newspaper interviews and riding in rodeo parades.  He traded his horse for an automobile and even became the protagonist in a Zane Grey novel, titled Lone Star Ranger.
At age 92, wracked with illness and infirmity, white saddened by the gradual loss of friends and family, on June 3, 1947 Captain John R. Hughes took his own life with his pearl handled Colt 45.
Chuck Parson's well-written, carefully researched and deeply sentimental tribute to this fascinating Texas Ranger belongs in your Old West library. Get your copy HERE.
Editor's Note:  Reviewer Phyllis Morreale-de Ia Garza is the author of numerous books about the Old West, including the novel Railroad Avenue, published by Silk Label Books, P.O. Box 700, Unionville, New York 10988-0700.  www.silklabelbooks.com
*Courtesy of Chronicle of the Old West newspaper, for more click HERE.