WILD WEST DAYS
We're packing to head down to Tucson, Arizona and Old Tucson Studios for Tucson Studios' Wild West Days.  At one time they were the location of several John Wayne movies and High Chaparral.   Here's how they describe the event:
"Get ready for a rip r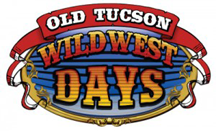 oarin' good time as Old Tucson presents Wild West Days – a salute to southwestern History, Heritage and Culture on Friday, March 30 thru Sunday, April 1, 2012! If you're looking for an experience to remember, don't miss the 3rd Annual Wild West Days! This three-day festival celebrates Old Tucson's emergence as Southern Arizona's destination for showcasing local History, Culture and Heritage in the western tradition. This exciting event pleases all ages with an array of daily educational presentations as well as exciting entertainment and activities."
If you're going to be in the area stop by and say HI!
Here's a link to their web site: www.oldtucson.com