NEWSPAPER BATTLE
Being first wasn't always important in the Old West.  But, it made all the difference in one race.  And, the objects of the race didn't even move an inch.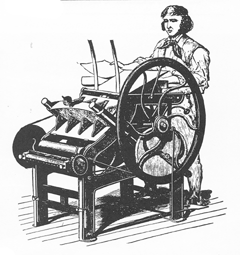 In 1859 the Pikes Peak Gold Rush was a bust.  The settlements of Cherry Creek, Montana City and Denver City were on the verge of becoming ghost towns when another gold vein was discovered, and people came running.
John Merrick decided the area needed a newspaper.  He bought an old press and headed to Cherry Creek.  Not seeing any reason for haste, Merrick took his time putting his newspaper together.
But, four days after Merrick had arrived; William Byers arrived from Omaha, Nebraska also with a printing press and the same idea.  Byers immediately located an office in the best building in town.  It happened to be an attic of a tavern, and the roof leaked so bad a canvas had to be hung over the press to keep it dry.
A race was on.  Bets were placed, and everyone cheered on their favorite editor.  Finally, on Saturday evening, April 23, 1859, William Byers' Rocky Mountain News hit the streets just twenty minutes before the first copy of John Merrick's Cherry Creek Pioneer.  In the news industry, a scoop of twenty minutes is like a lifetime.  So, John Merrick sold out and left for the gold fields.
William Byers had the area to himself.  However, his troubles weren't over.  There was a battle between the two neighboring towns on either side of Cherry Creek.  So Byers couldn't be accused of favoritism, he moved his equipment to a building that was virtually astride Cherry Creek.  Not a good move.  Four years after he started his newspaper, the area flooded, and washed away the building.  His press wasn't found until 35 years later.