Jesse Chisholm Died of Food Poisoning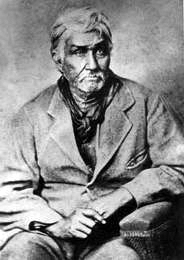 On March 4, 1868 Jesse Chisholm died of food poisoning.
Even though the Chisholm Trail is known for its use during the cattle drive era, Jesse wasn't a cattleman, but a frontier trader.  He had a great knowledge of the southwest that was valuable in trailblazing.
Because he was a trader, Jesse Chisholm's trail was a straight road with easy river crossings and few steep grades so lumbering heavy freight wagons would have no trouble traveling it.
He had originally used this trail to supply his various trading posts among the Native American tribes in Indian Territory, what is now western Oklahoma. He worked with Black Beaver, a Lenape guide, to develop the trail. Chisholm died before the peak period of the cattle drives from Texas to Kansas; but he was important to numerous events in Texas and Oklahoma history. He served as an interpreter for both the Republic of Texas and the United States government in treaty-making with Native American tribes.
A year before Chisholm died; his trail also began to be used for cattle drives.  For five years, more than a million head of cattle traveled up the road, creating a path that was 200 to 400 yards wide.  Traces of the trail can still be seen to this day.