HARVEY WHITEHILL
Sometimes Old West lawmen chased an outlaw only until he was out of sight.  He was lucky.  Then there were the unlucky outlaws that were chased by Harvey Whitehill.

As a yo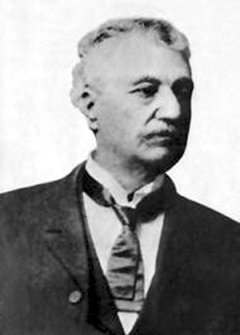 ung man, Harvey Whitehill mined in several areas in Colorado, and following the Civil War did some mining in New Mexico.  As one of the founders of Silver City, New Mexico, he ended up as their sheriff.  Whitehill came into the spotlight as the first person the arrest a young William Bonney for a petty theft.  Bonney was to later became famous as Billy the Kid.
But, Sheriff Whitehill's true nature came out following a November 24, 1883 train robbery.  Four men held up a Southern Pacific train near Deming, New Mexico.  In the process, the train's engineer was killed.
Wells Fargo and Southern Pacific placed a reward of $2,000 on the head of each of the robbers.  This whetted the appetite of semi-retired Sheriff Whitehill.  Whitehill searched the scene of the crime and found a discarded out of the area newspaper.  He traced it back to the subscriber, who was a storekeeper.  The storekeeper remembered using it to wrap some food bought by a local Black cowboy named George Washington Cleveland.
Whitehill found Cleveland at a restaurant where he was working.  Immediately Whitehill arrested him.  Although Whitehill had no idea who else was involved in the train robbery, he said, "I arrested you for killing that train engineer.  I already have your partners and they talked."  After that, Cleveland spilled his guts.  The other three outlaws were arrested.
But, the four didn't get a chance to go to trial…because they escaped from jail.  When the posse caught up with them Cleveland was killed, and two others were captured, only to mysteriously die at the end of a rope on their way back to jail.  Although the fourth person temporarily escaped, he was eventually captured.