GREAT COWBOY EVENT
There's a great cowboy music and poetry event coming up February 3 – 5.  It's the Cochise Cowboy Poetry and Music Gat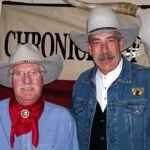 hering in Sierra Vista, located in southeastern Arizona.
This year they're celebrating the Centennial Anniversary of Arizona's statehood with an outstanding lineup.
One of the headline performers is Bill Barwick, Western Music Associations Male Performer of the Year.
Bill is also joining us on our Following the Legends Cruise to Alaska July 28 to August 4.
The link to the Cochise Cowboy event is: http://www.cowboypoets.com/Site/Home.html.
The link to the Following the Legends Cruise is:  http://chronicleoftheoldwest.com/2012-cruise.shtml