DOC HOLLIDAY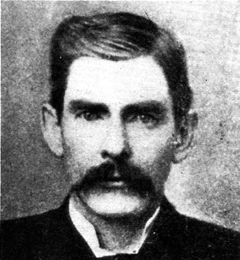 On November 8, 1887 Doc Holliday died from tuberculosis.

Born in Georgia, Holliday was raised in the tradition of the southern gentleman. He graduated from the Pennsylvania College of Dental Surgery in 1872. However, shortly after starting his career as a dentist in Atlanta, he developed a bad cough. Doctors diagnosed it as tuberculosis and advised him to move to a more arid climate. So, he moved to Dallas, Texas.

Even though Holliday was a good dentist, and had a successful practice, gambling interested him more than teeth, and he became a skilled poker and faro player.

About 1875, Holliday began drifting between the Wild West Boomtowns of Denver, Cheyenne, Deadwood, and Dodge City, making his living gambling and aggravating his tuberculosis with heavy drinking and late nights.

Although they were strange bedfellows, Holliday and Wyatt Earp were loyal friends. Following the O. K. Corral shootout, because of an arrest warrant, Holliday left Arizona and returned to the life of a western drifter, gambler, and gunslinger.

By 1887, his hard living had caught up to him, forcing him to seek treatment for his tuberculosis at a sanitarium in Glenwood Springs, Colorado. He died in his bed at the age of 36.

It's interesting to note that although movies about Tombstone show Doc Holliday as being consumed with tuberculosis, in reality, as a result of Tombstone's dry climate, he had little trouble with his tuberculosis.