David Neagle – Marshall of Tombstone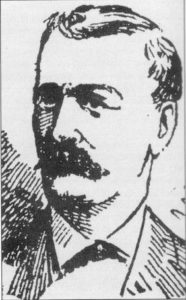 On July 15, 1880 David Neagle arrived in Tombstone, Arizona. If he had had the ability to see the future, he would probability have continued on down the road.       
 David had operated a mine in the past, and knowing many of the miners, thought he could earn a living in that business in Tombstone. But that wasn't the direction fate took him. He signed on as county deputy sheriff under Sheriff Behan where he perused stage robbers and stock rustlers… one time alongside Wyatt and Morgan Earp.           
David Neagle was a man "credited with being one of the fastest pistol shots in the 
West
, and of indisputable courage," and was liked by both the Democrats and Republicans. 
After the O. K. Corral shootout and the ambush shooting of Virgil Earp, Neagle decided to run for town marshal as an independent and won. This was during a time when the conflict between the Earps and the Clantons, and the Republicans and the Democrats was at its worst. But Neagle serving both as the town marshal and deputy county sheriff was liked by everyone, yet not quite trusted by anyone because he seldom took sides.  
When County Sheriff Behan decided not to run for another term, Neagle, again as an independent, decided to run for county sheriff. But this time he was branded as a Republican friend of the Earps, which resulted in his being defeated. It also resulted in the Democrat vote being split, and a Republican elected.  
By now Neagle was wearing thin on everyone. So David quietly served out his term as town marshal, left Tombstone, and headed for Montana. 
David Neagle is a good example of how, in a polarizing situation, when you want to be everyone's friend, you sometimes end up being no one's friend.