COWBOY FAST DRAW
The Outdoor Channel's Shooting USA program is scheduled to broadcast The Fastest Gun Alive T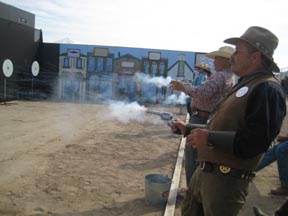 ournament – The World Championship of Cowboy Fast Draw, which is held in Fallon, NV in early October each year.
The sport of Cowboy Fast Draw is run by the Cowboy Fast Draw Association, based in Fernley, NV.  Its unique format using special wax bullet ammunition allows CFDA events to be held at almost any location and the organization has over 50 affiliated chapters across the USA and several other countries.
Shooting USA can be seen on the Outdoor Channel three times on February 8th at noon, 5 p.m. and 9 p.m. Central Time.
To get more information about the organization go to: http://www.cowboyfastdraw.com/