Chuckwagon: One Shot Pot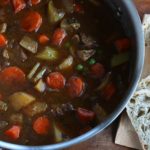 One Shot Pot:
Early in the morning cut up stew meat 
in small pieces (beef or venison), 
onions, garlic, celery (celery salt will do fine).
Cook until tender which will take about two hours.
Then add a can of tomatoes, 1 can of corn, 
1 can of green beans and 1 can peas.
If no canned goods available you can add one cup macaroni, 
1 cup rice and several diced potatoes.
This is called Slum-gullion in some parts of the West.
*Courtesy of Chronicle of the Old West newspaper, for more click HERE.