CALICO GHOST TOWN
Once again we're pac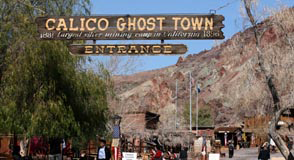 king for another trip.  This one is to Southern California.
I don't know how may of you are aware of an Old West venue in Barstow, California called Calico Ghost Town.  Calico is neat Old West town that was originally a mining town.  We'll be stopping by there and do a conversation for our weekly show about the unique origins of the town and what it is today.
Then we'll be heading on over to another town you may just have heard about.  It's called Hollywood.  We'll be going to the Golden Age Theater and see a performance of a western old time radio show.  This should be fun and interesting.