BUFFALO BILL'S METAL OF HONOR
Everybody knows about Buffalo Bill Cody.  Here's something about him that most people don't know.  And I'm sure it will surprise you.

Buffalo Bill C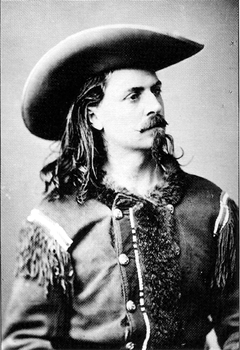 ody was the consummate showman.  Anytime he had the opportunity to get publicity, he took it…even making up stories about himself, and embellishing those that actually happened.  But there was one accomplishment that didn't get much publicity.  That was that Buffalo Bill Cody won the Congressional Metal of Honor.  Part of the reason was that, he had it, and then he lost it, and then he got it back.  I'll explain.

In May of 1872, with novels of his exploits in circulation, Cody was scouting for the 3rd Cavalry.  He was guiding an advance unit of 6 men when, a mile away, Cody spotted the Indians they were pursuing.  He led the soldiers to within 50 yards of the Indians before gunfire erupted.  It wasn't a major battle, but in the process Cody killed one Indian and the other men killed two others.
On the basis of the report that was written up about that encounter, on May 22, 1872, Buffalo Bill Cody was awarded the Congressional Metal of Honor.  Right after this, Buffalo Bill quit his job as scout and started touring in the play The Scouts of the Plains.

But this wasn't the end of the story of Buffalo Bill's Metal of Honor.  In 1916, just prior to his death, Congress took a look a the people who had received the Metal of Honor and rescinded Buffalo Bill's along with 910 others.  The reason given was that Buffalo Bill was a civilian employee at the time of his gallantry.

But, in the spirit of  "all's well that ends well," in 1989, 72 years after his death Congress took another look, and restored Buffalo Bill's Congressional Metal of Honor.