Old West Book Review: Tracing The Santa Fe Trail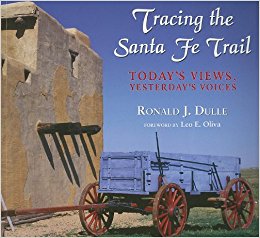 This photographic journey along the Santa Fe Trail is a treasure of outstanding color photos combined with a detailed, step by step history of this important trail wending its way across the American West between the Missouri river valley and northern Mexico.
Readers turn the pages of history from 1821 through 1880, witnessing caravans of freight wagons, lumbering oxen, stoic Missouri mules, and faithful horses traveling this international route used by military men, hunters, pioneers, homesteaders, tradesmen, bullwhackers and every sort of adventurer.  By 1880 the railroads put the Santa Fe Trail out of importance but before trains on rails edged out horses and mules, this road seethed with adventure.
Maps inside the book give a detailed description of the trail running from St. Louis, Missouri to Santa Fe, New Mexico.  As we turn the pages, magnificent photos combined with carefully written essays tell the story. Scenes of trapper's tents along the Missouri River, historical markers explaining old battle scenes, patient oxen ready for work, military forts, restored buildings in Kansas boom towns, and haunting wagon ruts are still visible across the prairie.
The author takes us along this spectacular tour of historical places while explaining the importance of each scene. We get an emotional glimpse of what it must have been like to walk or ride along this trail. We imagine the squeak of freight wagons, the clank of trace chains, and can almost feel the lonesome prairie vastness surrounding brave travelers as they went along their way.
Every type of conveyance from buggies to huge Conestogas lumbered along.  Trade goods included salt, tools, furs, medicine for fever and malaria, castor oil and opium. Some packages contained wines and brandies, chess sets, violin strings, playing cards, cooking utensils, cloth and leather goods as well as silver and gold. Businessmen Russell, Majors and Wadell, who would eventually come up with the idea of a Pony Express, first ran a freight business that consisted of over 3,500 freight wagons carrying thousands of tons of material.
Fortunes were made and lost, armies tramped cross-country while cemeteries sprang up along the way.  This book is filled with surprising historical tidbits that we sometimes forget existed.  For instance, we see pictured the historical landmark of Fort Osage built to house soldiers guarding the new Louisiana Territory.  Pictures of the soldier's quarters give us insight about how they lived.  Plank floors, spartan bunk beds and a wood kitchen counter remind us of days gone by.  Turning the pages we find everything from old adobe buildings to the Palace of the Governor in old Santa Fe. There are churches, Pueblos and Indian kivas inviting exploration.
Every page of this book causes the reader to reflect on the thoughtful and sentimental scenes chosen by the photographer. Faithful mules pulling a U.S. Army wagon, crumbling stone walls of an 1860 stage station, gushing water at a river crossing, remnants of two-hundred year-old cottonwood trees and historical grave markers show what lined the old Santa Fe Trail. We are filled with awe and admiration for the people who braved the new and dangerous land.  Photographer Ronald J. Dulle is to be congratulated for his beautifully orchestrated photography combined with this important history lesson.  This book belongs in your Old West library. You can grab this beautiful book HERE.
Editor's Note:  The reviewer, Phyllis Morreale-de la Garza is the author of numerous books about the Old West including The Apache Kid, published by Westernlore Press, P.O. Box 35305, Tucson, Arizona 85740
*Courtesy of Chronicle of the Old West newspaper, for more click HERE.