Book Review: Thunder Canyon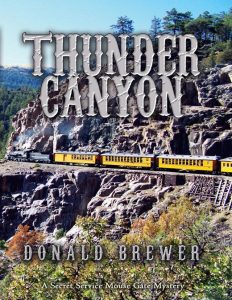 The novel Thunder Canyon is informative as well as fun reading for teenagers and adults alike. It is a fantasy/historical fiction about three modern teenage cousins who are magically transported back to the 1900 rip-roaring gold mining town of Cripple Creek, Colorado. The kids are both delighted and awed by the boardwalks, gambling saloons, Chinese workers, miners, gamblers, horses, wagons, no indoor plumbing, and the hustle and bustle. The contrast showing modern kids in a historical setting is amusing as well as filled with surprise. Occasional expressions like "awesome," and "Hey, dude," keep the reader chuckling as the kids are put to work spying on various members of a dangerous outlaw gang.
The real protagonist in the story is the grown up Eddie Donnally from New York, a Secret Service operative on the trail of a gang of counterfeiters who have set up shop in Cripple Creek. The gang consists of an angry woman bent on revenge, and her three brothers who are her accomplices. Unbeknown to Eddie, he has had a run-in with this family several years earlier in New York during which time their leader was sent to prison. Now, after moving to Colorado, the remaining gang members plan to kill Eddie when they discover their old nemesis is hot on their trail again.
The kids work as sleuths, passing information about what they have seen and who they have followed, while Eddie works the gambling saloons looking for signs of counterfeit money and who the culprits might be.
As readers turn the pages, we find sharp photos of 1890s rail cars, color photos of gold pieces known as Eagles, Double Eagles, and Half Eagles. There are pictures and descriptions of telegraph keys, burro descendants of those who worked in the Cripple Creek mines, arrest cards and photos of several real female counterfeiters apprehended in the old days by the Treasure Department, counterfeit coin-making equipment, Gold Mine Stock Certificates and counterfeit coin detectors from the 1890s.
The story includes train rides between Cripple Creek and the nearby town of Victor, a bit of romance between Eddie and an attractive town lady who runs a haven for stranded persons, and a helpful connection with the Chinese community. The story ends in a big shootout inside the gang's mine hideout, right in keeping with a good old fashioned Western story.
The Appendix gives a detailed description of the game of faro including photos and information about dealers, players, and cheating (which sometimes ended in gunplay).
The author of this book is Donald Brewer, a 26-year veteran with the United States Secret Service. He was the Special Agent-In-Charge of the Counterfeit Division in Washington, D.C., and at one time worked undercover as case agent in the Atlanta Field Office. Later, in Miami, he spent eleven years closing down counterfeit manufacturing operations when Miami was known as the counterfeit capital of the world.
While retired now, Brewer's obvious love for his job comes through in this story which is the second book in the "Mouse Gate Series" of adventures about catching counterfeiters. When not giving speeches and presentations regarding counterfeit U.S. currency, he is busy writing a third book for this series. Brewer has appeared on both the Discovery Channel and Learning Channel in an effort to educate the public on the issues of newly designed U.S. currency.
Thunder Canyon is not only an informative book for adults, but perhaps a step toward encouraging teenagers to read about life in the Old Wild West. Get your copy and get in on the fun HERE.
*Courtesy of Chronicle of the Old West newspaper, for more click HERE.