Book Review: Six-Shooters and Shifting Sands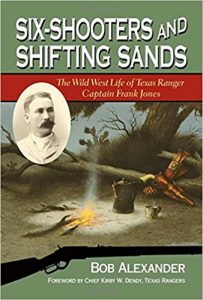 Author Bob Alexander had a long career in law enforcement.  Combining this with his love of Texas, he now specializes in writing the biographies of various outlaws as well as lawmen, and here he takes aim at Captain Frank Jones of the Texas Rangers.
The book contains carefully researched information about the life and times of this brave man who was born in 1856 and died young, at age 37 in 1893.  Jones' remarkable career is filled with straight-shooting combined with faithful adherence to the laws of his State of Texas.  These Rangers withstood unbelievable hardship as they helped create a safe environment for ranchers, settlers, townsfolk and adventurers alike.  They dealt with never ending long days in the saddle, cold and heat, sudden political harangues and many uncertainties regarding their jobs and futures.  Many of these men had no real personal lives, they were expected to be nearly superhuman in their promise to keep the peace.
Captain Frank Jones was born during tumultuous times in Texas during which Comanche swooped down on homesteaders, often kidnapping and murdering men, women and children.  Comanche raiders combined with white rustlers, robbers, Mexican bandits and many miles between settlements and help was not a place for folks lacking grit.  Frank's mother Keziah Jones gave birth to her son on their lonely ranch while marauding Comanche terrorized the neighborhood.
Keziah's photograph shows a severe, straight-laced and grim woman whose stare alone could stop most Comanche in their tracks.  This photo and many others in the book show Frank's family members, Ranger cronies, and important political figures he knew.  With surnames like Hogg, Outhouse and Outlaw, this is better than what any fiction writer could possibly make up.
When Frank Jones joined the Frontier Battalion (later known as the Texas Rangers) he began chasing outlaws, and riding to the scenes of robberies, cattle rustling, fence cutting, murder, and every other depredation imaginable.  No one could ask for a more exciting profession.  Guns, horses, brawls, skulduggery. . . , it's all here.
The book delves mostly into the career of Frank Jones, and touches only briefly upon his personal life.  We find out he was married twice, his first wife was in fragile health and died soon after the couple's second child was born.  Frank had to put both children to live with relatives while he pursued his career.  Sadly, the second child soon died.  Several years later Frank married a divorced woman who had one son from her first marriage.  Her ex was also a lawman, and a friend of Frank's.  She was pregnant with Frank's son when Frank was killed during an ambush perpetrated by a gang of Mexican outlaws at a place called Pirate Island.
Frank Jones' story ends with a tragic and fiery shoot-out between his group of Texas Rangers, and a Mexican gang well-hidden behind adobe walls.  The Rangers rode right into a trap, and were cut down in a thunderous fusillade, leaving Captain Jones mortally wounded but still fighting back until his dying breath.
Today Frank Jones lies buried beneath his memorial monument in a cemetery near Ysleta, Texas.  A sentimental photograph shows his old pals and comrades in arms circling his grave in remembrance.  We see tough old Rangers in their twilight years respectfully resting their hands on the grave marker, their eyes shining with sadness, courage and respect.  Some of these men were with Frank at Pirate's Island the day he died.
Bob Alexander has once again written a valuable and memorable biography of an old-time Texas Ranger who deserves to be remembered.  This book belongs in your Texas Ranger collection.
Author's Note:  The Reviewer, Phyllis Morreale-de la Garza is the author of many published books, including the novel Hell Horse Winter of the Apache Kid, published by Silk Label Books, P.O. Box 700, Unionville, New York 10988 (845-726-3434)  www.silklabelbooks.com.
*Courtesy of Chronicle of the Old West newspaper, for more click HERE.