Bitter Creek George Newcomb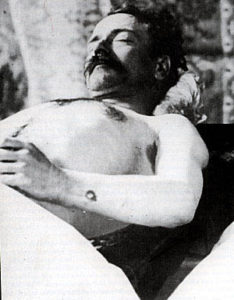 George Newcomb was born in Kansas in 1867. At a young age he went to Texas to become a cowboy. From there he drifted up to Oklahoma. He so frequently sang, "I'm a wild wolf from Bitter Creek, and it's my night to howl," that his friends started calling him Bitter Creek George Newcomb.   
Bitter Creek joined the Dalton gang, but fortunately for him, he missed out on the Coffeeville Raid where the Daltons were wiped out. From there he drifted over to the
Doolin gang
.     
While at a country dance he met a 15 year 
old
 Rosa Dunn, and was smitten. Rosa became the legendary "Rose of Cimarron."      
On May 1, 1895, Bitter Creek and fellow outlaw Charley Pierce were on the run. They decided to go to the ranch owned by Rosa Dunn's family on the
Cimarron River
in Oklahoma. Bitter Creek not only wanted to see Rosa, he was also hoping to collect the $900 owed him by Bee and John Dunn, Rosa's brothers. Unfortunately for Bitter Creek and Charley Pierce, there was a $5,000 reward on their heads. 
When the two men dismounted at the Dunn's house, gunfire opened up. With Bitter Creek and Pierce on the ground, the Dunn brothers stepped outside. Pierce let out a moan. It was silenced with another blast. 
The Dunns put Bitter Creek and Pierce in the back of their wagon, and headed for Guthrie. On the way in Bitter Creek, who wasn't quite dead, asked for some water. He was given lead instead.  
We're not sure about Rosa's attitude concerning the event, there have been varying accounts over the years. But, with the $5,000 reward, and the $900 the Dunn brothers no longer had to pay Bitter Creek George Newcomb, I'm sure they felt pretty good about what happened.