BATTLE OF BEECHER'S ISLAND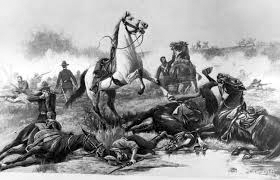 The summer of 1868, Indians were conducting major raids on railroad work camps and homesteads. Major George Forsyth was ordered to put together a detachment of 50 volunteer frontiersmen to teach the Indians a lesson.

The first part of September they arrived at Kansas' Fort Wallace, and immediately took after a group of Indians who had stolen some stock. On September 16, Forsyth and his men, low on rations, camped on the banks of the Arikaree River.

Unknown to Forsyth 4,000, Cheyenne, Arapaho and Sioux had been following him for three days. The morning of September 17 Major Forsyth and his men were awaken by the sounds of war cries. The 50 volunteers, with their animals, retreated and dug into a 40-yard by 150-yard sandbar.

By 9 A.M. the Indians had killed all of the volunteers' horses and mules. Now there was no way of escape. A half hour later 300-mounted warriors, headed directly for the 50 volunteers. But, what the Indians didn't realize was that all of Forsyth's men were equipped with Spencer seven-shot repeating rifles and Colt pistols. Waiting until the last second to start firing, the charge was broken.

For eight days the Indian attacks continued, and the Spencer rifles kept them away from the volunteers. Two of the volunteers were able to get away and make it to Fort Wallace for help. By the time reinforcements arrived, the bulk of the Indians had left, with only a small contingency staying to starve out the volunteers.

Technology had made it possible for 50 men to face and essentially defeat a force of 1,500 warriors. During the battle, 10 of the volunteers were killed, and 20 wounded. But Indian causalities were estimated to be around 50 killed and as many as 200 wounded.