AN OLD WEST CRUISE TO ALASKA
Have you heard about the cruise Sunny and I are putting together? It's called the Chronicle of the Old West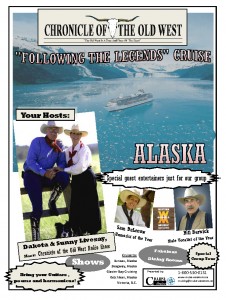 Following the Legends Cruise to Alaska. And you're invited to come along with us.
As you know Alaska was the last western frontier. Wyatt Earp and John Clum, along with Soapy Smith spent time up there. And don't forget the gold miners.
The cruise is seven days aboard the Golden Princess. We'll be stopping at Juneau, Skagway, Ketchikan, and we'll be visiting the Mendenhall Glacier.
In addition to group Old West presentations, joining us will be cowboy singer Bill Barwick and cowgirl poet Sam DeLeeuw. They're both Western Music Association Entertainers of the Year.
We've put together a package that includes airfare, transportation, taxes, and on board food.
The cruise is July 28 to August 4. Give us a call right away because space is limited.  Call us at 888/DOG-JAKE.